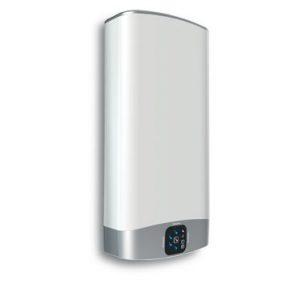 In order to keep this unit as self contained as possible, we install its own water heating system.
ARISTON VELIS EVO 50 – 80 ltrs.   Detailed Instructions
This is a modern slick looking water heater, it means your home has constant hot water in all taps. It eliminates the need for electric showers which can cause power issues running from the main home.
Once installed we recommend to keep it at a minim of 60 degrees to kill any bacteria. Note, this model will perform a auto thermal disinfection every 30 days. We have installed values in our taps for you to comfortably use the water at suitable temperature.
It takes about 10-15mins to fully heat this tank once completely used.
Anti-bacteria
The anti-bacteria function consists in a water heating cycle at 70 °C which carries out a thermal disinfection action against the relevant bacteria.
The first cycle begins 3 days after the function activation. Subsequent cycles are performed every 30 days (if, during that period, the water is not heated to 70 °C at least once). At the end of every cycle, the operating temperature reverts to the value set previously by the user.
When the product is switched off, the anti-bacteria function is disabled but the days counter is able to run. If the appliance is switched off during the anti-bacteria cycle, the product shuts down and the function is disabled. When the product is switched on again, the function is active and able to resume its parameters. After a disconnection by the power mains, when the appliance is connected again, the function is active and able to work as a first activation has been done by the user.